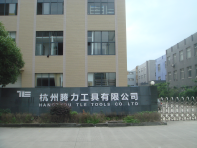 HANGZHOU TLE TOOLS CO., LTD is located in beautiful
west lake-Hangzhou city and was founded in 2003. Our
company is specialized in manufacturing webbing sling,
safety belt, safety harness, cargo lashing, towing strap,
rigging etc. We had not only advanced band loom
machines, dyeing machines, computerized sewn
machines and a complete set of testing equipments
displayed in our lab, but also equipped with advanced
technique of production and quality management system.

Besides, we control the quality when we purchase the raw materials. In 2013, the total
sales amount is over fifteen million dollars. All our items are mainly exported to American, Europe, South American, Middle East and many other countries. We have won very high reputation from many customers for our product quality & company service.
We always carry out the principle that Customer first, Quality first & Service first, and we
are sincere to provide standard products for every customer. Moreover, we can make
samples according to customer's requirements.
"Your satisfaction is our biggest goal". We will continue to provide more professional and
upper service to all the customers.
>> Every day we come to TLE together with the morning sun light, We love our company
and our career with boundless passion and imagination!
>> Whenever we walk into our workshop, there appears lasting motivation on us. As the of
TLE staff, We love our company and our job from the bottom of heart!
>> How lovely and cute staff ! It is them who make great progress and push us onwards to
the world.
>> Only busy shadows and rolling machines sing in the workshop. All the producing lines
are penetrating as the blood of TLE!
>> Each delicate product is an achievement after their hard working and they distribute
pure flames to the world, together with our dreams!
>> For several times, only the lights accompany with us deep into the night. We thought
a certain technique problem over and over again and we are going to conquer another
mountain after that!
>> In recent years, we become greater day by day. We will overcome all the obstacles
and beat up the winds for more beautiful tomorrow!
>> We feel quite comfort that all our members are working hard in TLE!
>> We feel quite happy for the care from our leaders whenever we are in trouble and
the harmonious life environment they created for us.
>> We are not giant, but I am willing to let our staff stand on my shoulder and help them to
go far!
>> We are not warrior, but I am willing to devote myself to TLE's bright future!